I love to bake. I love to eat baked goods. But flour and sugar are NOT my friends, so I play around with recipes until I find something that meets my lower sugar, nutrient dense criteria. Chocolate chip cookies are a huge favorite for me; I have very fond memories of my dad baking them on the weekends, letting my brother and me lick the beaters and the smell of freshly baked cookies filling the house.  So it's been a mission to find a chocolate chip recipe that I could get behind. And also lick the spoon!
These cookies are free of grain, refined sugar and eggs, but big on taste.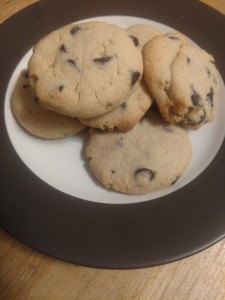 INGREDIENTS:
1/4 cup (one stick) butter, softened
1/3 cup unsweetened applesauce
1/3 cup pure maple syrup
2 tsp pure vanilla extract
3/4 cup cassava flour
1/2 tsp baking powder
1/2 tsp salt
1/2 cup (ish) dark chocolate chips
Preheat oven to 350 degrees F. In a medium bowl, mix the butter, applesauce, syrup and vanilla until well combined. Add the cassava flour, baking powder and salt and mix until the dough is uniform. Fold in the chocolate chips. Roll dough into uniform balls on your baking sheet (I get 12 large cookies after I've taken a taste of the dough), then flatten gently. Bake for 22 minutes, or until the edges are slightly brown. Cool and enjoy!