Using tools such as the TRX, resistance bands and/or your child, we build a challenging and effective workout in your home or nearby park.  I focus on functional fitness exercises, which means you can carry the stroller down the subway stairs easily, run to catch the train, and reach the only clean wine glass in the back of the cupboard.
My specialties include:
Athletic achievement: run your first 5K or PR in your marathon
TRX training
Pregnancy fitness
Post Partum
Exercising with your baby (the perfect resistance tool!)
Yoga
Flexibility training
Functional fitness
My end goal is always fitness education: giving you the tools and confidence to approach any weight room or fitness center without intimidation.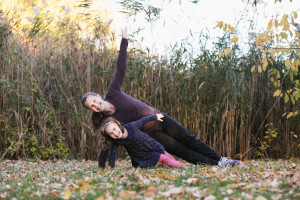 TAKE A CLASS WITH ME!
Spinning at the Dodge YMCA
Sundays 9am (45 minutes) and 10am (55 minutes)
Functional Fitness Bootcamp
Mondays following the NY Public School Calendar 8:40-9:25am. Class meets at Greenwood Ave and East 5th street in Windsor Terrace
MPower with Mom In Balance NYC
Tuesdays 10am in Prospect Park. Meet at the 3rd street entrance
Circuit Training at the Prospect Park YMCA
Tuesdays 5:30-6:30pm